KING CORN
, a really informative documentary about 2 guys who plant an acre of corn and follow it's journey from seed to dinner plate.
Better than Diet anything, can never replace a Coca-Cola Classic, but when u dont want a swarm of bees sharing your drink, this is a great substitute. It's best ice-cold, but was drinkable at a lukewarm temperature!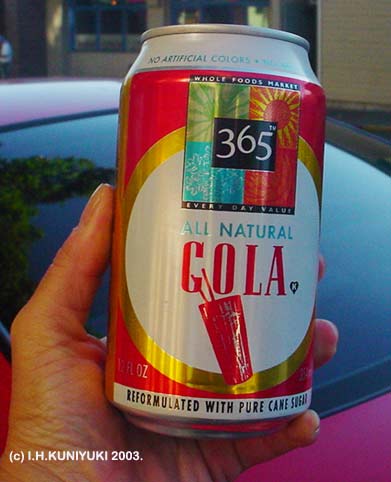 Eats

experimental buffet

Eat, Drink and be Wary... do check the restaurant u are heading out to before u go eat there by going to the www.your city.gov to find the local health dept listings on RESTAURANT HEALTH VIOLATIONS. your stomach and intestines will thank you.
Main courses, snacks, junkfood, really weird stuff, glow in the dark food, health drinks, coffee drinks, desserts, teriyaki huts, sushi, gelato, crepes, what u can eat with nutella...

Our main tasters/reviewers are A/2003-4.

H/2002-8, YA/2002, Y/2006-8, and compiled comments from our readers.

Also a listing of what's open late around town, that means Seattle, send us a list of eats from your town.

ther's a new restaurant in the International District, its a cool little joint called J Sushi, not much of a menu other than the sushi which is prepared by Dave "D-Knock" Nakamura.

DN's sushi background is boasted proudly in ColorsNW magazine (www.colorsnw.org) he's got good technique for such a youngster in the sushi chef realm, he hails from Kauai, Hawaii but grew up in seattle from -high school onwards. he's kinda ditzy, gets names and faces mixed up. He called me " Adam " two or three times, didnt catch himself either!! that's a mental note that didnt stick -- i was waiting for the fourth faux-pas. that's a special gift that'll get him into some heat, if u know what i mean, y'know?

J Sushi the Restaurant has great FOOD.although slim in items. the standouts are: the edamame, the niku udon was awesome, the beef was tender and flavorful, the chicken katsu curry, good fluffy -shiny rice, enuff quantity of curry gravy to rice with enuff fukujinzuke sprinkled atop. the chicken katsu was sliced thin, lean, with a really crunchy coating and not greasy.

the price for a bowl of miso soup is high for the area..i think it was $2.95, ? it better be a big portion! they charge for everything, tea, rice-- man, for the amount of food most sushi-eaters throw down, it should be a single low price with unlimited refills. are there no non alcoholic beverages other than tea (genmai with the buds floating on top was hard to drink-it looks cool but it aint appetizing) the interior is red with a huge octopus on one wall, which is pretty incredible, they should have the artist's name on a tag up, as well as the giant koi on the other walls, pretty cool graphics.

the downer is this video monitor * dwarfed by the expanse of the red wall, is the smallest EYESORE that stands out the most, with its ghetto wires dangling down the wall next to someones head if you're sitting at the edge of the sushi bar, and the backs of diners are exposed to the crackheads that continuously stroll back and forth outside the joint. there's an akward table sandwiched between the sushi bar and the entryway, maybe they should put up a shoji screen on the windows and separate the door from the eating area a little more. the crooks peeking in every 30 minutes asking for change-- keep scoping out for stealables...

other than that crap, its very clean and comfortable.

HAWAIIAN BREEZE is located in the heart of the Wallingford neighborhood just west of the I-5 and the U-District in Seattle. Just over 3.5 years of existence, this home-style family atmosphere pumps out some awesome quality, flavor, and quantity for a reasonable price.

I've been going there from the first week they opened when they were a bit slow in getting it together, and the person i went with had a tight schedule with no time for waiting. i hadnt been there since then- it has been a while since that experience of " hawaiian time". I went there in early 2006 with more laid back people who didnt mind that the hamburger took so long. people dont realize that they're not a hamburger joint, it's not a mass production restaurant. the meals are prepared just for you, with love.

HB 's cook is Junko is japan born, raised in Hawaii, now on the mainland here in Seattle making the food that quenches your soul and fills the empty void in all of us. Karen is up front booking catering orders, running orders from the Babalu Lounge, getting your orders and keeping the restaurant together. the various helpers ayano (a talented okinawan sanshin and folkdancer), ami, ( the always hip sister of Junko ), and james ( homesick for his homeland honolulu) the get-it-done-guy. These dedicated crew of people put out the best service and food in seattle - you should be grateful and thank them.

the best advertisement is by word of mouth.

coconut-lime with condensed milk shave ice by Ami.


mmm mmmm gooood!

All the photos on this page were taken on a Sony Cybershot P50 2.0mp camera.